Investor Relations
SIGA is concerned about the prevention and treatment of infectious diseases that affect people all over the world. We're very interested in your questions or comments.
SIGA has been a publicly traded company since 1997 (SIGA).
SIGA partnered with global health agencies and governments around the world to support the response to the 2022 mpox (monkeypox) outbreak. SIGA will continue to support clinical trials to assess the use of TPOXX (tecovirimat-SIGA) for treatment of mpox and expand access globally including endemic areas and developing world countries

U.S. medical providers, please visit CDC.gov for guidance on obtaining and using TPOXX. If you are a foreign government or medical provider and have an inquiry about TPOXX (Tecovirimat-SIGA), please contact us at monkeypox@siga.com.
Stock Information
Change
Volume
52 Week High
52 Week Low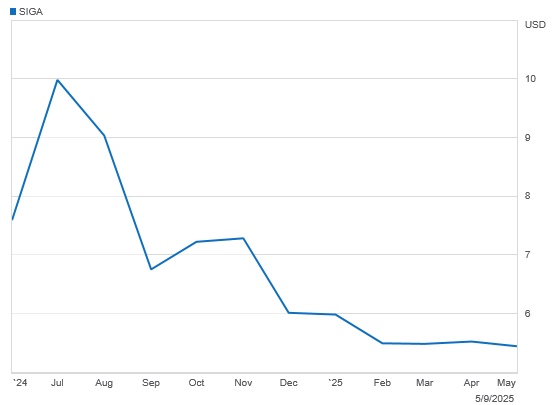 Data Provided by Refinitiv. Minimum 15 minutes delayed.